Hello, I'm an Elan owner in Seattle WA USA. Just thought I'd drop in and read up. My Elan +2 is a 1970 Weber 40 head car, my Elan M100 is a 1991. I also have a 1970 Europa S2 that matches the +2 in exterior and interior color. I read the "rules" and if the Elan M100 offends this forum, just let me know and I'll find the door myself. I will soon be converting the +2's generator over to an alternator and installing a high torque starter. I have a little electrical sorting to do for the spring and summer drives this year. I'm here to take advantage of the knowledge base. Hope you're all having a great new year so far! -Patrick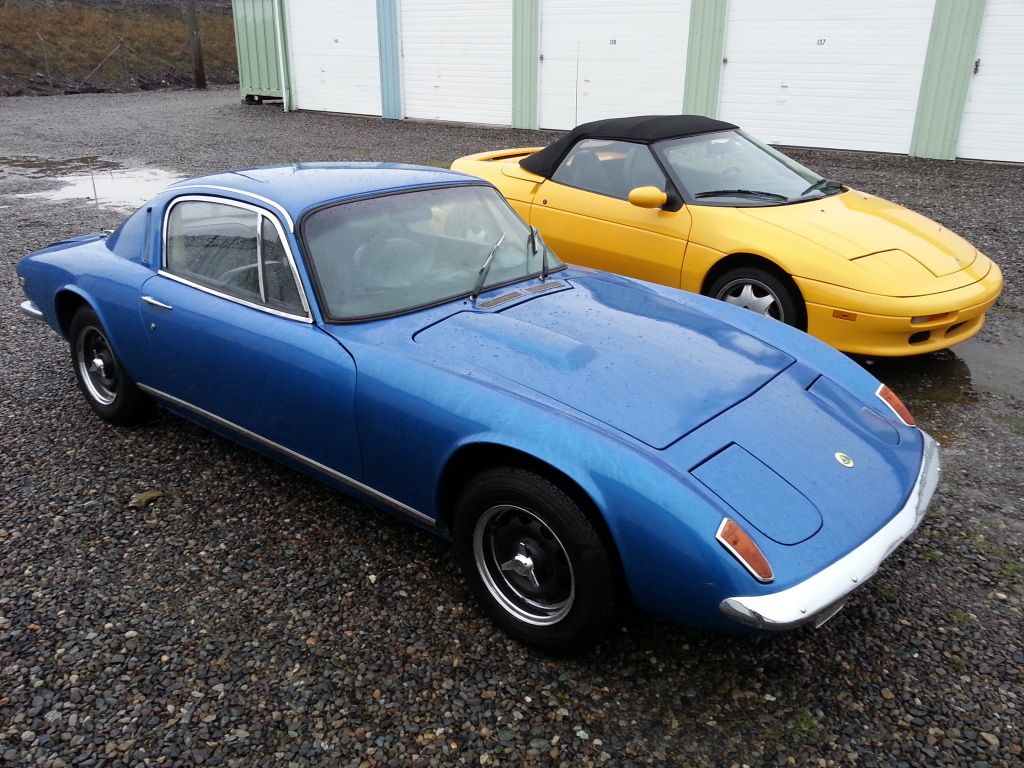 DashEight

New-tral
Posts: 4
Joined: 31 Dec 2014
Location: Seattle WA USA
Patrick welcome from over the Pond. If you ever need to know anything this is the place to find out. The information and technical information is amazing
happy motoring
Stuart

Europatc

Third Gear

Posts: 391
Joined: 19 Aug 2010
Location: Hessle East Yorkshire
Hey Patrick!! They look nice together! John
john1180

Second Gear

Posts: 155
Joined: 07 Feb 2005
Location: Seattle
Welcome! The M100 doesn't bother me at all, I've owned 2 in the past. Nice +2, and please post a pic of the Europa as well. I personally have a had a hard time my entire life settling on just one car, so I totally get having 3 different Lotus.
Tahoe

Fourth Gear

Posts: 687
Joined: 19 Sep 2010
Hi Patrick
nothing wrong with the isuzu
the plus2 is a great choice of car
regards
Paul
elan66

Second Gear

Posts: 182
Joined: 01 Jun 2011
Location: sussex
Welcome aboard Patrick!

Don't know why anyone would mind having another eclectic person on the forum. I would like to see a pic of the Europa too. In addition to my 66 S2 SE Roadster, I too have a 70 S2 Europa, a 67 non Air Flow Coupe, a 65 Elan Roadster, a 69 S4 Coupe and a partial 66 26R. You can never have too many is my motto! Welcome!

Frank
Famous Frank

66 Elan S2 SE
65 Elan S2
66 Elan 26R
69 S2 Europa
06 Elise
67 Barracuda

Famous Frank

Fourth Gear

Posts: 692
Joined: 29 Apr 2004
Location: Atlanta, Georgia USA
Thank you for the warm welcome! It looks like I?m in good company with the members on here. I do have an ?eclectic? passion for the cars. Attached are photos of my current collection from this afternoon. The Europa is in ?project? status and is currently in the back of the shop ?glass naked?. I bought it as a basket case years back and have been on and off again working on it. 2015 is its year though. You can see it in the back of the second picture. You might have to "Click" on the pictures for the full sizes.
It has been very interesting to see the differences and similarities between the 1970 Elan +2 and the 1970 Europa S2. There have been several times that I have come across the same exact parts used on the two cars. I have enjoyed that little surprise having both of them together. I?m very curious to remove the +2?s carpet and the door cards to see if they had hand-written the body color on the transmission tunnel and scratched the VIN number into the fiberglass on each door like on the Europa. Maybe someone on here knows? I can post pictures from the Europa if you'd like and have never seen they markings before.
-Patrick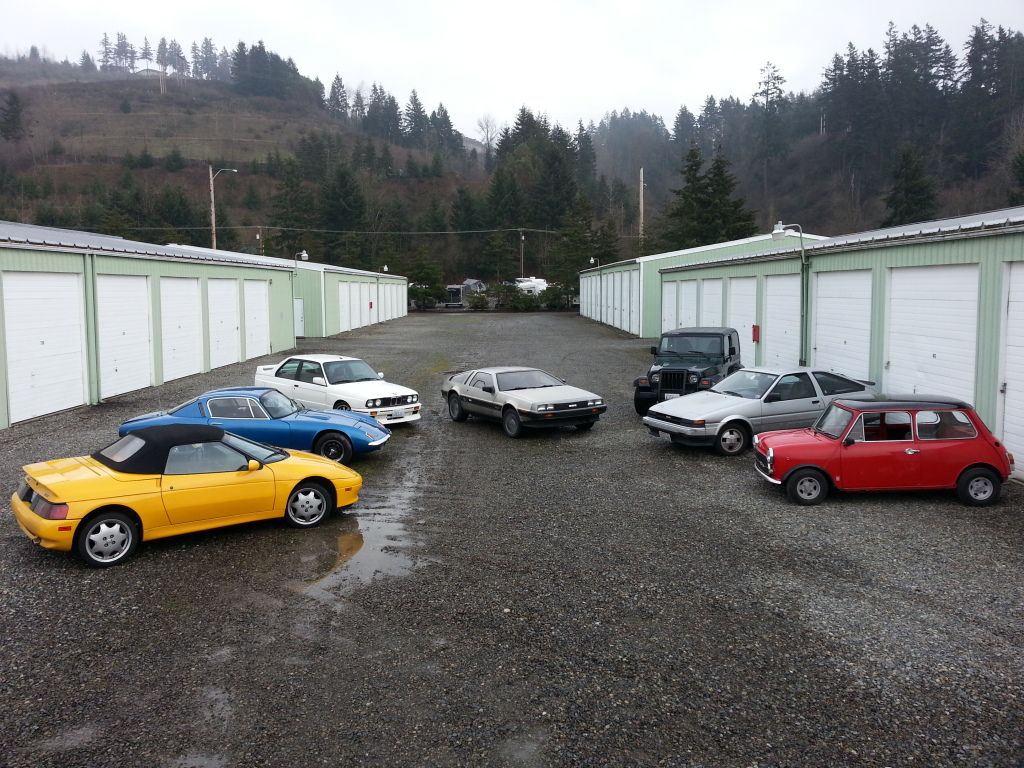 DashEight

New-tral
Posts: 4
Joined: 31 Dec 2014
Location: Seattle WA USA
Patrick,
if there is something wrong with you, it appears I have the same malady.
You'll be surprised how many +2 folks there are on this site.

Looks like a M3 in the mix?

mike
Living in California with the fruits and nuts
"Be Polite, Be Professional, But have a plan to kill everyone you meet"
General "Mad Dog" James Mattis United States Marines
cal44

Fourth Gear

Posts: 693
Joined: 28 Nov 2010
Mike, I have many, many flaws. The obvious one shown here is a lack of self control at times. It breaks my heart that there are project cars out there on the streets that deserve a good home and they don?t have one. I'm joking of course. I love to tinker with them as a therapeutic activity. There are a million small victories in a project that I savor when the car is back up and running and hopefully looking as good as it was when it was first shipped out from the factory. Honestly, the greatest thing about them has been the bridges they became between myself and the friends I meet. Club gatherings, spirited drives, cars and coffee, etc.
The white BMW is my 88 E30 M3. It?s a very early USA shipment car, Vin #69. It scoots around pretty good. Lots of smiles over the years in that one. ?Patrick
DashEight

New-tral
Posts: 4
Joined: 31 Dec 2014
Location: Seattle WA USA
Patrick,

Noticed the DeLorean as well. I met a guy with a 3000 mile original car. He has about 16 cars which is another story all together. Did I also see a Mini?
Tahoe

Fourth Gear

Posts: 687
Joined: 19 Sep 2010
Russ, I just finished up my DeLorean a month ago. It has 16k miles on it from new but came from Arizona. Anything made of plastic, rubber, or leather needed refinished, refurbished, restored or replaced. My Mini is a 1973 Italian built Innocenti Mini Cooper 1300 Export. They have several details the Italians added/changed to set the "Inno" Minis apart from the UK's. -Patrick
DashEight

New-tral
Posts: 4
Joined: 31 Dec 2014
Location: Seattle WA USA
Total Online:
Users browsing this forum: No registered users and 3 guests