I am getting exhaust leaks from the Y piece junctions probably due to the fact that the new SS manifold ends were not exactly parallel to each other. I would like to try and avoid removing the manifold from the car as it's such a pig of a job. Are there any other options? Is it worth removing the main pipe and Y piece and reassembling with some form of exhaust sealant? Worst case, if I had to remove the manifolds I guess one of the pipe ends would need a saw cut, bend and reweld? Any suggestions?
William2

Fourth Gear

Posts: 943
Joined: 20 Jan 2013
Location: West Sussex
Remove the Y piece and main pipe, give everything a good clean with a wire brush / emery cloth whatever, then use lots of exhaust assembly paste
http://www.halfords.com/workshop-tools/ ... regum-150g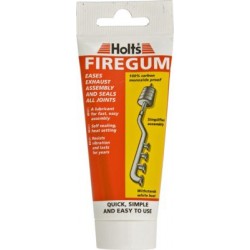 providing you are not trying to fill holes or repair rusted or weak components there's nothing wrong with using this stuff. It works well and will seal effectively.
Crack on, get that car on the ramps
Kindest regards

Alan Thomas

Spyder fan

Coveted Fifth Gear

Posts: 2541
Joined: 11 Jun 2009
Location: Kent country & Sussex seaside UK
I had a leak at the y, did as Alan suggested and it was sorted.

I'd be a little careful how much you use. I've just pulled mine apart to find a two pebble sized chunks of paste in there. One was attached one was lose. Shouldn't cause any real problems but probably explains the exhaust rattle I'd sometimes hear. Didn't think I'd used that much paste either.
'73 +2 130/5 RHD, now on the road and very slowly rolling though a "restoration"
mbell

Coveted Fifth Gear

Posts: 1674
Joined: 07 Jun 2013
Location: Austin, TX (UK Ex-pat)
You could us silicone instead of the brittle assembly putty - might last longer and seal better.

I used to use this on a Caterham 4:1 exhaust and it worked very well.

Jon
jono

Coveted Fifth Gear

Posts: 1633
Joined: 17 May 2007
Location: The wet bit in the top corner of England
Total Online:
Users browsing this forum: No registered users and 10 guests