Ok.... removed the wiper motor assembly from the car today along with the plenum. This is a straight forward job with the dash removed. Apart from the seats and carpet the inside is now stripped.....
https://youtu.be/68eEPolFWTA
djb222

Second Gear

Posts: 181
Joined: 16 May 2014
Location: Birmingham
Great video, particularly (for me) the stuff about the plenum box as I suspect the seal on mine isn't the best and sooner or later its going to have to come out. Are the seals available?

I had all the wiper assembly out a few years ago when the motor packed up and, as you mention, it's a lot harder with all the under dash intact. It took about an hour to get it all out and a day to put it back. As you've probably realised by now the flexible 'spring' moves the wiper spindles by being pushed / pulled back and forth by the motor crank arm rather than by rotating. It's more like the steering rack and pinion setup with the motor moving the track rod.
Stuart Holding
Thame UK / Alpe D'Huez France
69 S4 FHC
Honda GoldWing 1800
Honda CBX1000
Kawasaki H1 500
Yamaha XS2
69S4

Coveted Fifth Gear

Posts: 1211
Joined: 23 Sep 2004
Location: nr Oxford UK
Thanks Stuart,
Yes got it a little wrong with the spring....
With regards to the seals.. A ring of foam forms the seal between the heater box and plenum which can be made up quite easily. At the top of the plenum, which butts up around the grille aperture there are two seals..a profiled rubber seal which slots over the edge that curves, and a narrow strip of foam that seals against the scuttle. Not sure if the profiled rubber is available but it looks fairly standard to me so should be available from somewhere.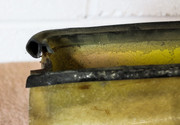 djb222

Second Gear

Posts: 181
Joined: 16 May 2014
Location: Birmingham
I haven?t looked but if the seal isn?t available from the usual suspects it doesn?t look that difficult to find on the open market. Be a tricky one to get wrong though. An awful lot of work to get to it after the dash area is built up.
Stuart Holding
Thame UK / Alpe D'Huez France
69 S4 FHC
Honda GoldWing 1800
Honda CBX1000
Kawasaki H1 500
Yamaha XS2
69S4

Coveted Fifth Gear

Posts: 1211
Joined: 23 Sep 2004
Location: nr Oxford UK
Total Online:
Users browsing this forum: No registered users and 14 guests