Hello Gents,
My name is Mike and I have been around for many years but only reading the daily summaries that appear in my mailbox.
I'm retired now but have always had work related to cars / repair / parts catalogs / pricing (Glass's Guide). Thus have done almost all my own mechanical work on a variety of cars I've owned, including many Citroens and a set of Lotuses. Starting back in the Eighties I've had a Europa Twin Cam, S4 S/E, Caterham 7 and M100, and very nearly got a 340R into the US (but not quite).
I recently had the good fortune to reawaken my old Elan which was dormant for some years due to my being ill with the "
too many cars
" syndrome. I have enjoyed reading about everyone's travails and joys, so thought I might jump in.
I'm hopeful that someone can point me to the manufacturer or distributor of an
Elan drop-in replacement permanently-lubricated pedal box complete with two master cylinders and alloy pedals, ala Elise
. Dave Bean doesn't seem to have one in stock for some reason.
Cheers,
Mike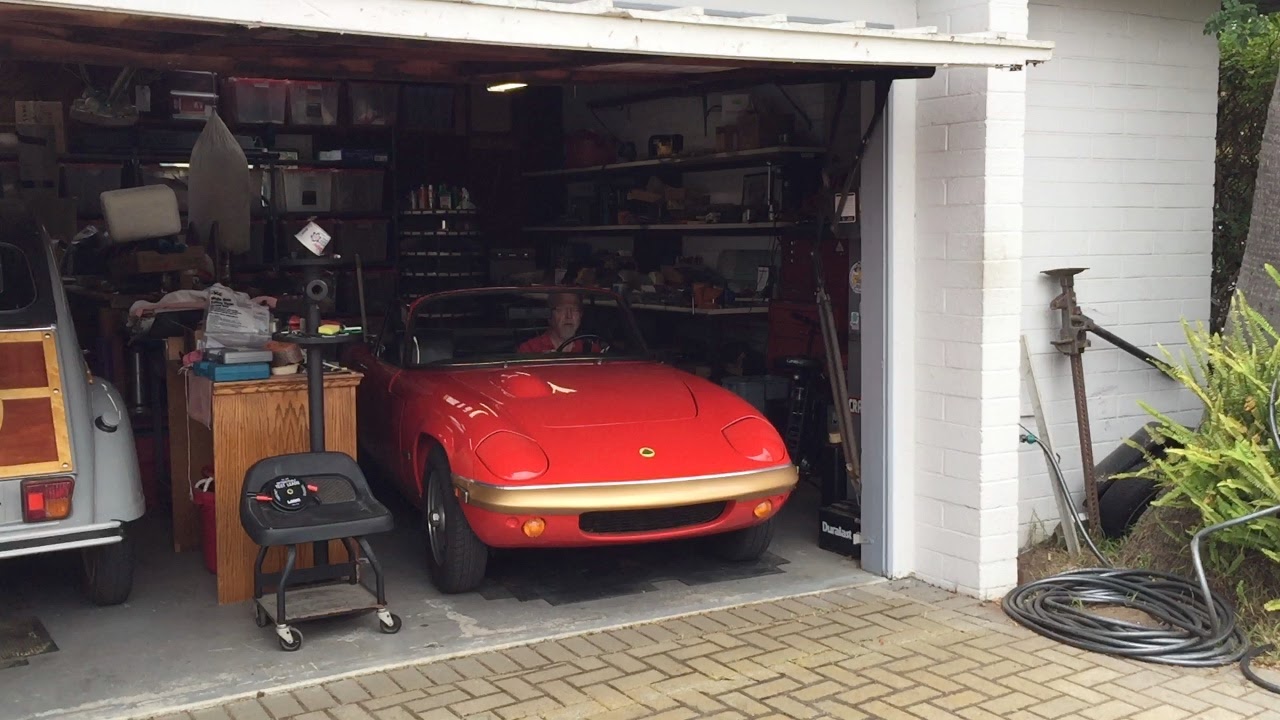 Citromike

First Gear

Posts: 43
Joined: 14 Mar 2017
Location: GMT-8
Welcome Mike,

Post some details of your car and some more photos.

Cheers
Steve

Silence is Guildern; Duct Tape is Silver

elanfan1

Coveted Fifth Gear

Posts: 2077
Joined: 13 Jan 2004
Location: Cardiff in Welsh Wales
Welcome Mike!
GMT-8...that puts you near the west coast. Citroens- I dig 'em! I would have bought a well-used CX when I lived in Germany if the exchange-rate hadn't been so terrible when I was there.

But back to Lotus- I'll second what Steve said; let's see some pics of yours!
1969/70 Elan Plus 2 (
not
S) 50/2036
"It just wouldn't be a complete day if I didn't forget something!" -Me

The Veg

Coveted Fifth Gear

Posts: 1510
Joined: 16 Nov 2015
Location: Atlanta 'burbs (southeast USA)
I got this Lotus Elan S4 S/E in 1994. It's my second of four Lotuses in my lifetime (Europa, Seven, M100). I've had it 24 years, having bought it from the first owner who put 32,543 miles on it in 23 years. In my opinion, that's a fair amount of miles on an early Lotus, especially in the spacious western states of the USA.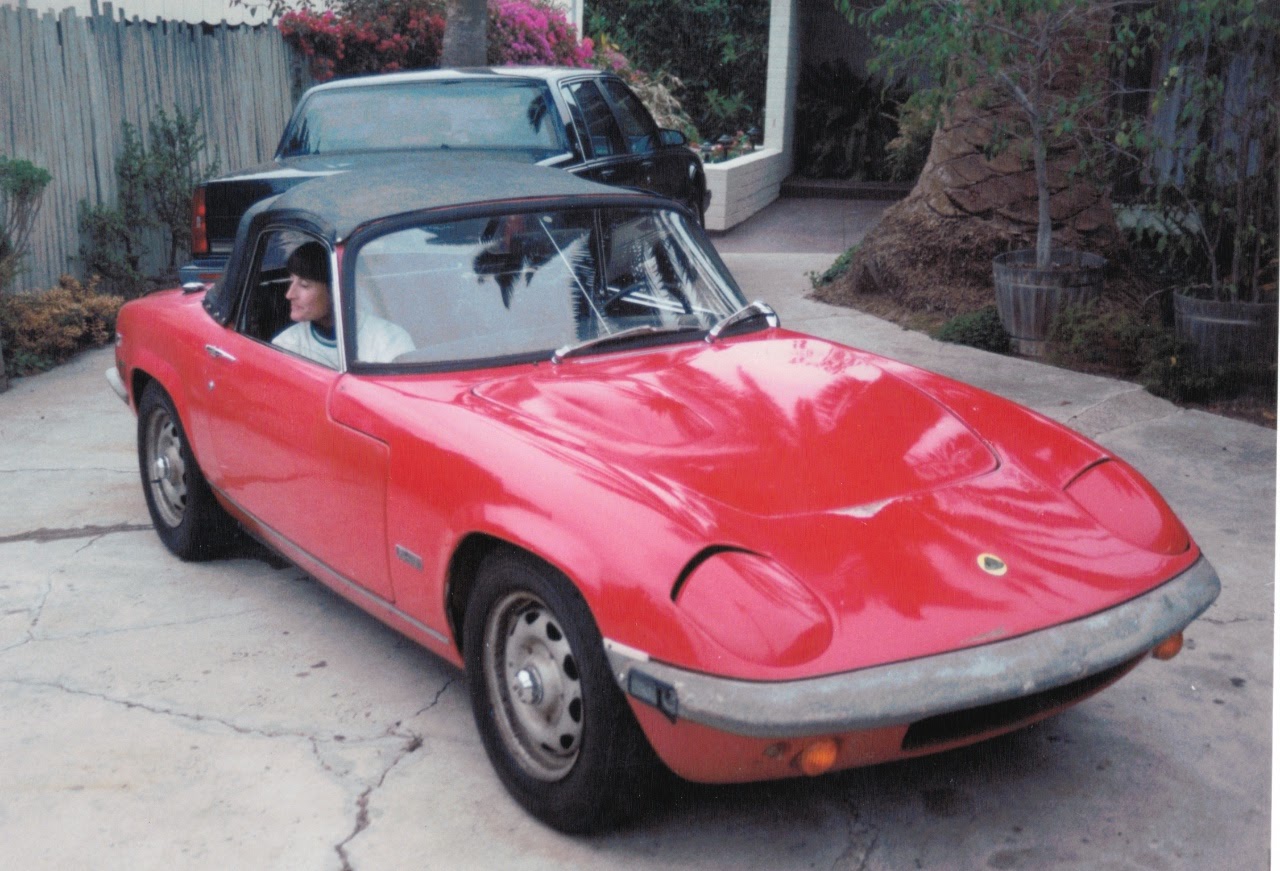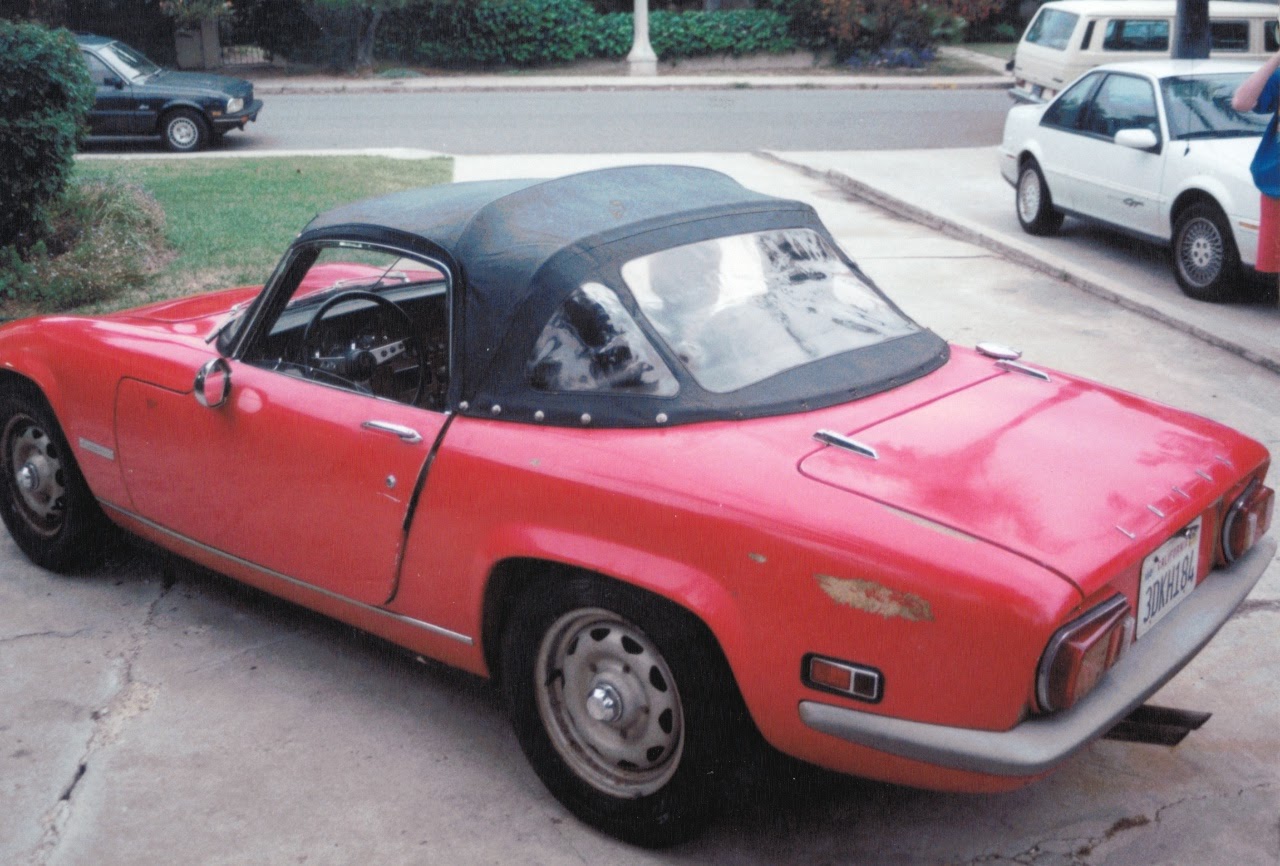 The car was running, it was pretty much complete, it had no history of accidents/crashes/destruction. It was almost completely stock, except for CV-joint rear axles and missing parking brake system. But it was far from beautiful when you got up close.
Just a word about myself - I have worked on cars since I was about 12. Retired now, but most of my jobs in my career were in automotive service, diagnostics, parts cataloging, estimating and related areas - in the US, Canada and UK.
RESTORATION EFFORTS
I set about fixing it up because I wanted a driver's car. Obviously the body and original paint needed some loving attention. I contacted a half-dozen body shops who all stared in horror at this tiny English fiberglass nightmare. They refused to give me a quote.
On day my pal Greg at work said "I can do it for you if you are not in a hurry." I wasn't in a hurry, so I sent it over to his house. And pretty soon it looked like this.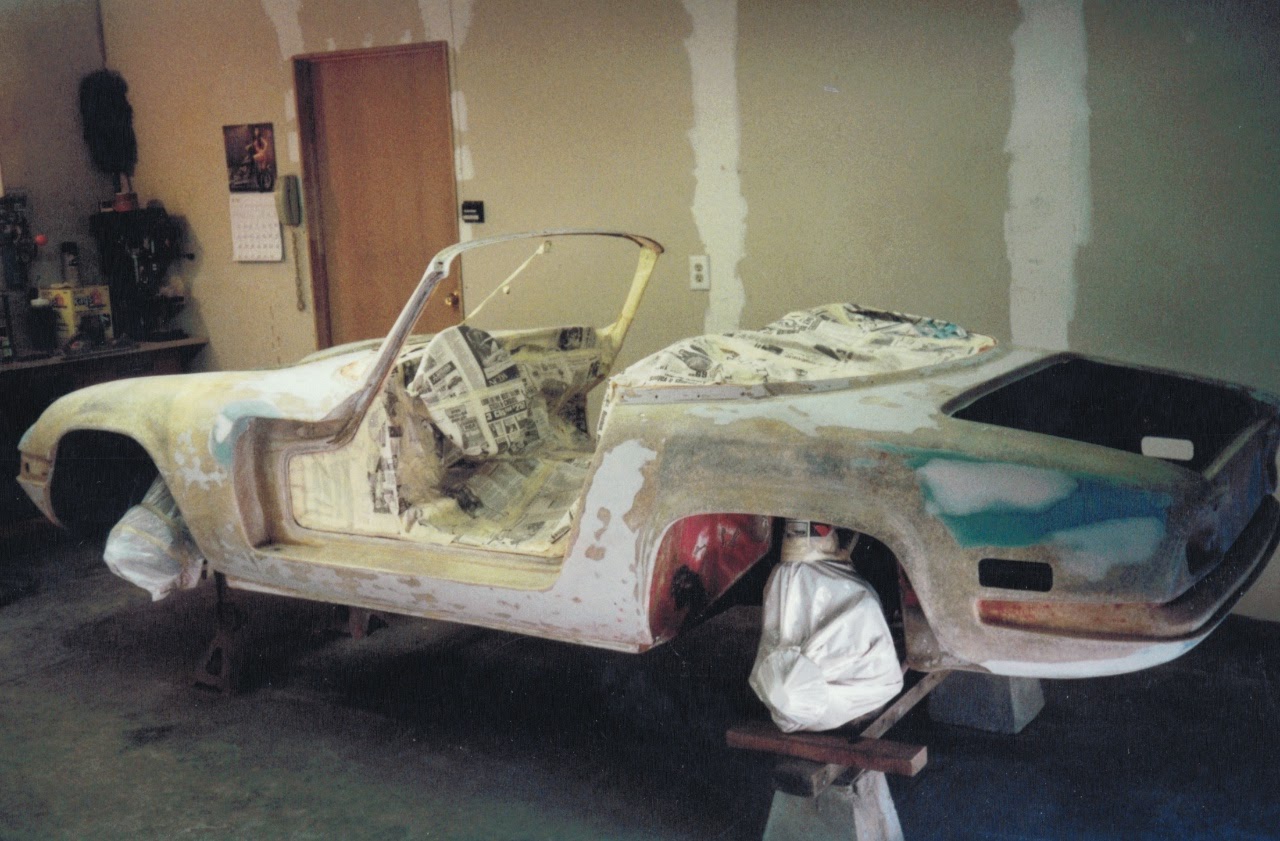 I'm sure you think I was crazy to trust a mate to paint my car in his garage, but Greg was also the head of the Mitchell Collision Editorial group - a cadre of ace body and paint men who set the standards and labor times for half of the US collision repair / insurance industry. Lowtus was in good hands - and when small hands were needed, he put his daughter to work with sandpaper (just kidding!).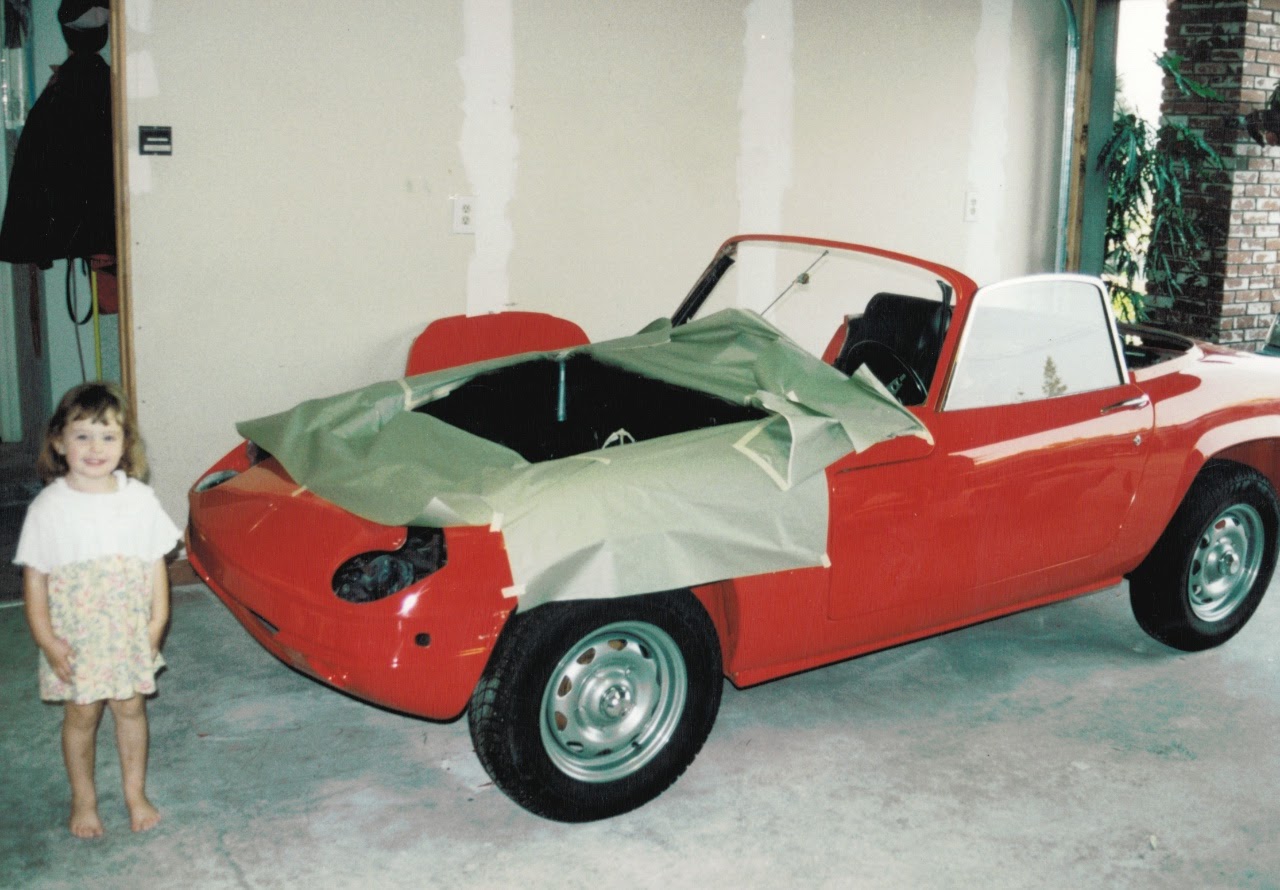 My intent was to keep it stock as possible, so we used Carnival Red, and gold on the bumpers (which was underneath the silver when we sanded them). This took 6 months and $3000. Just the materials were over $1000 (more than 20 years ago). Then I had to start putting it all back together, starting with the windshield.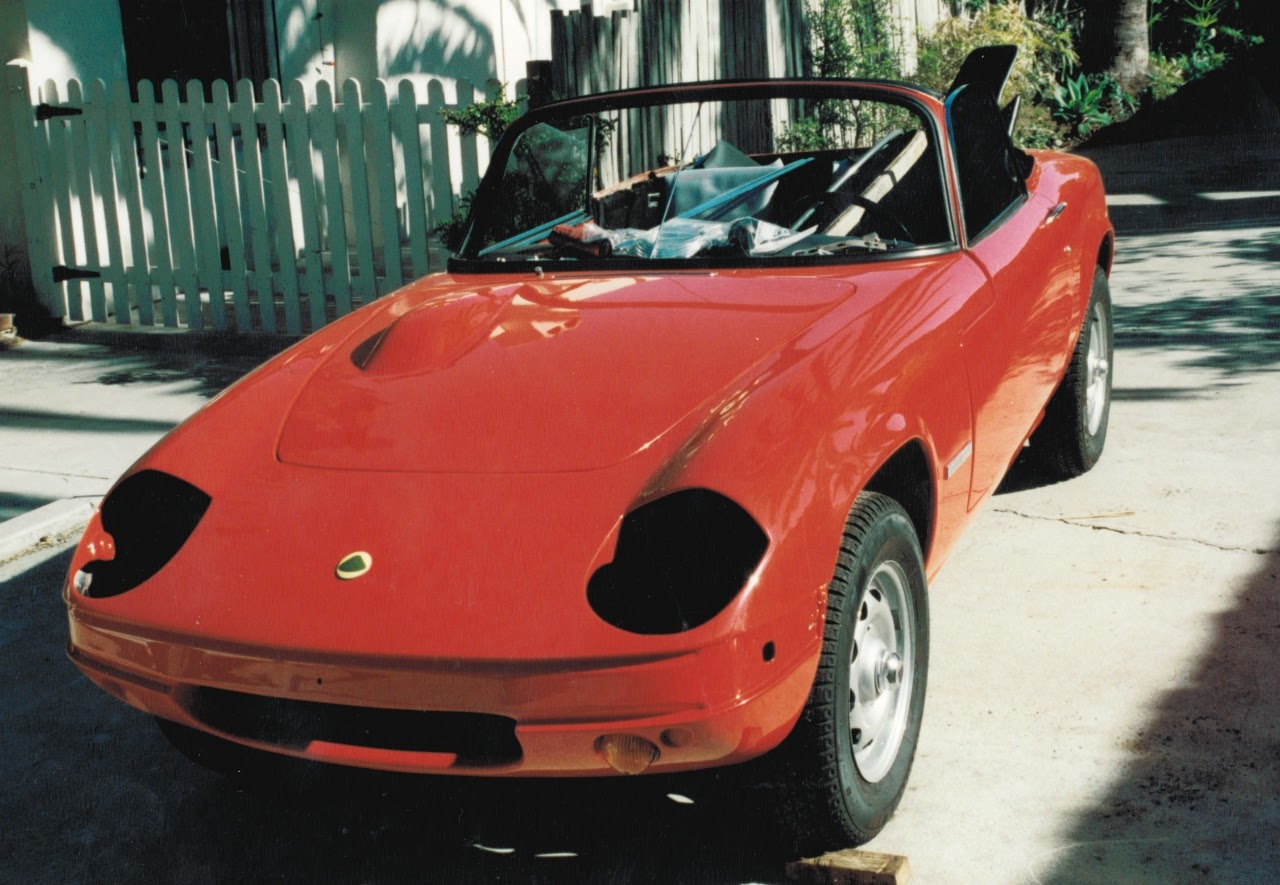 I recall ordering a bunch of odd bits (door handles, trim parts, rubber); the order was almost $2000 and was smaller than a breadbox when it arrived! Yeow.
IN THE MEANTIME, while the body was with Greg, I got the engine and transmission cleaned up and decided the Twin Cam's value and fragility meant it was worth professional care. I carried it to Bill Schlossnagel, who is a Socal vintage Lotus race car expert (yes, it is a niche market but he's still in business today).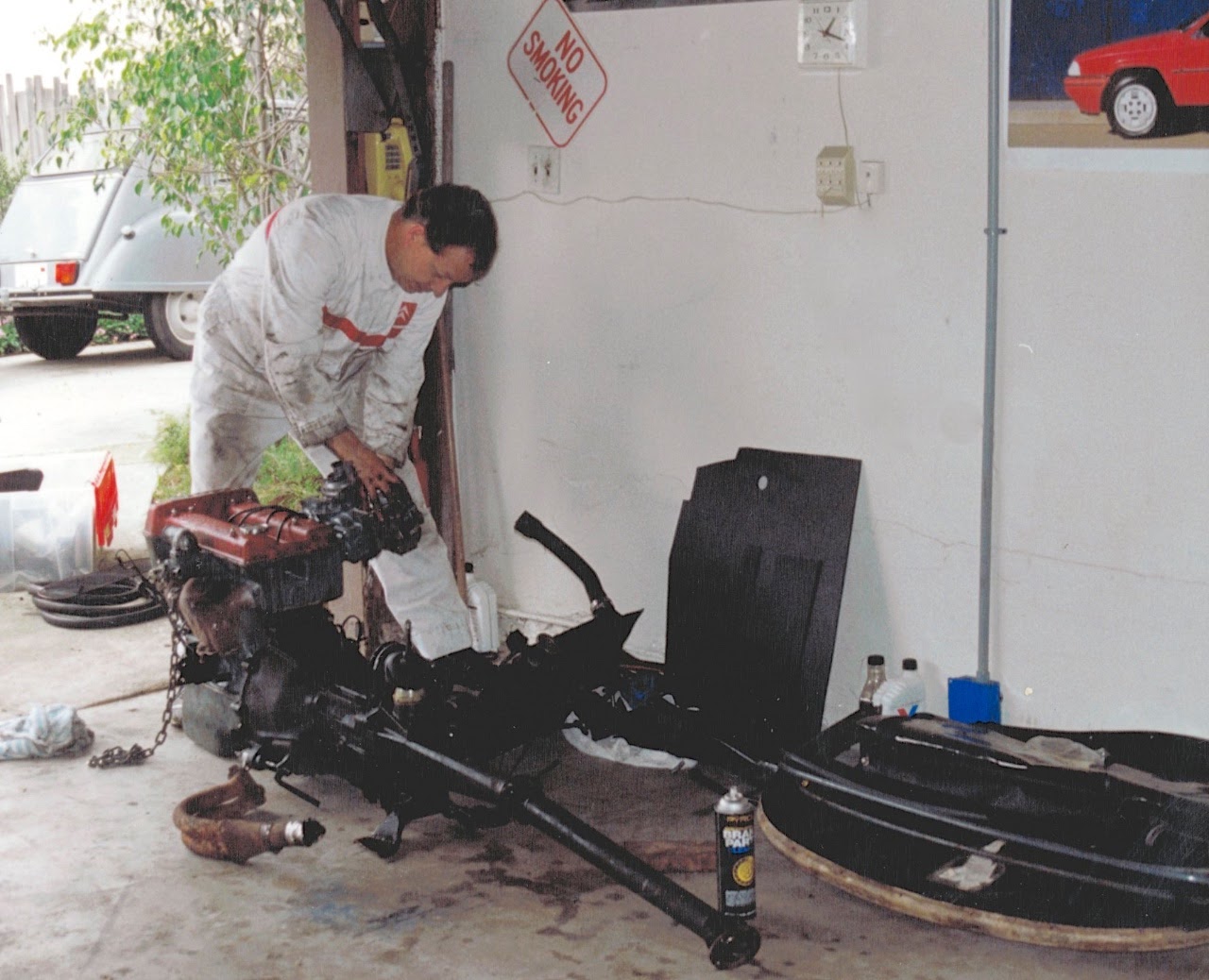 It returned 9 months later, looking a lot nicer and pumping out 120+ horses. Since Greg had finished with the body by then, I put the engine back in and fired it up.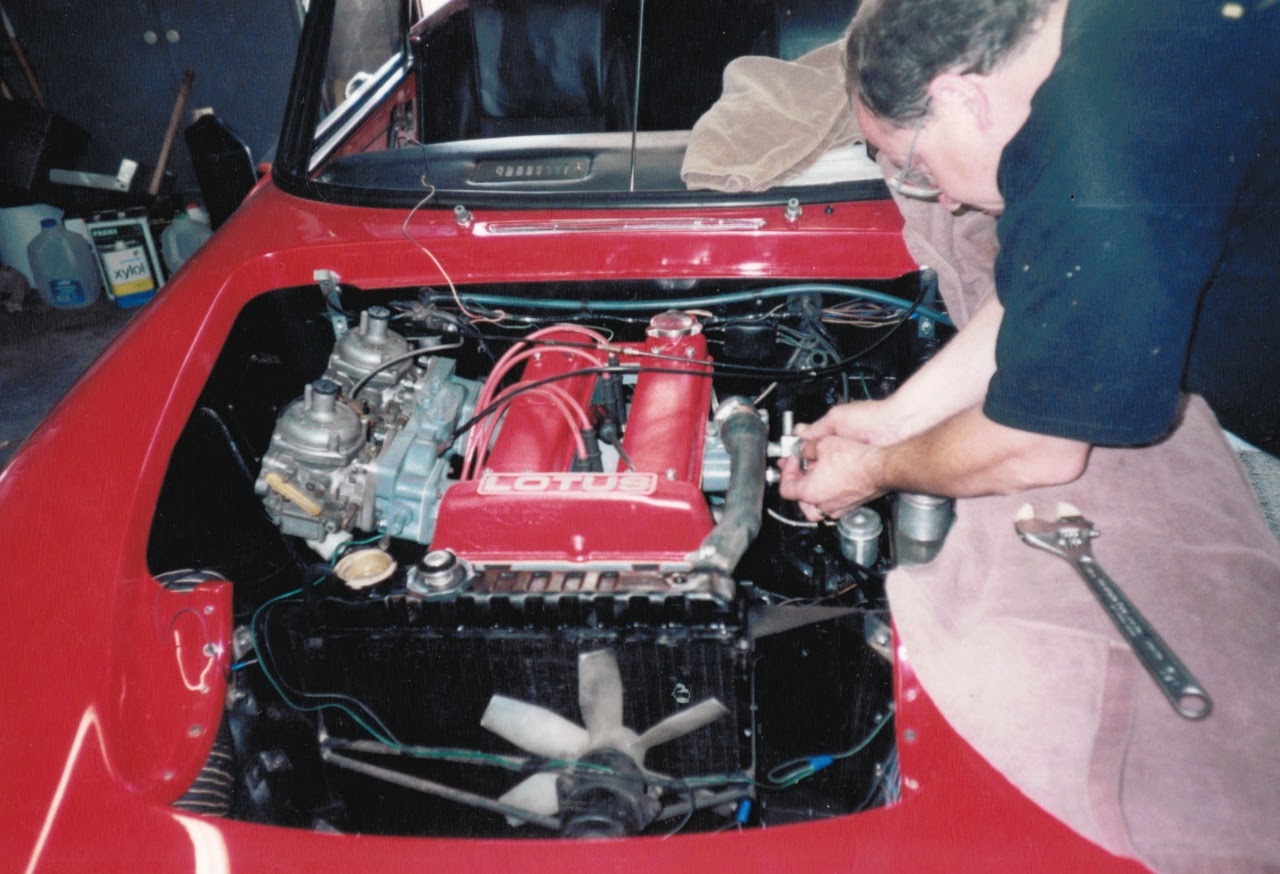 As you all may know, wiring on a fiberglass car can be a nightmare, and Lotuses are extra aggravating.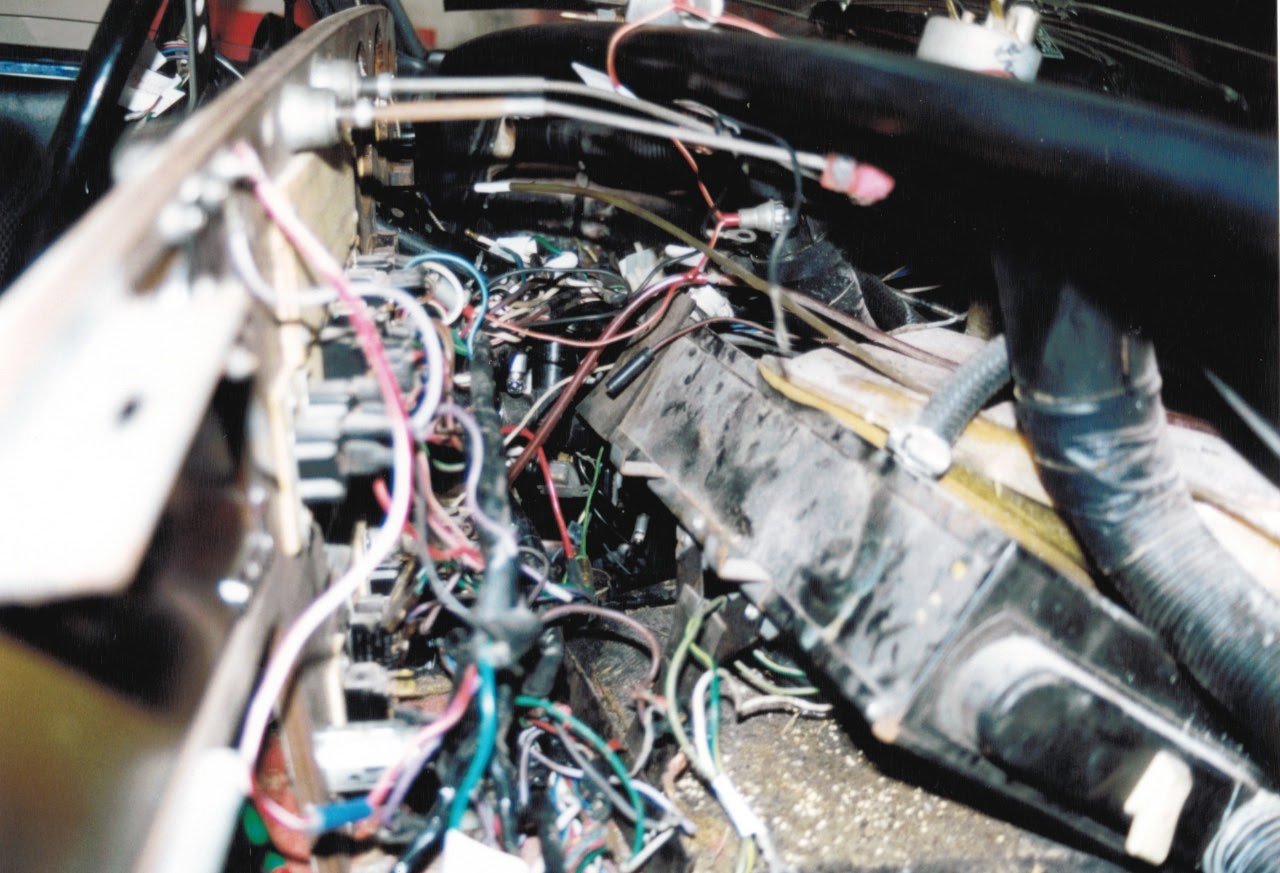 TEETHING PROBLEMS
I got it completed and took the car for a drive. This is the first shot, I think, of the dash and mileage is showing about 34,800.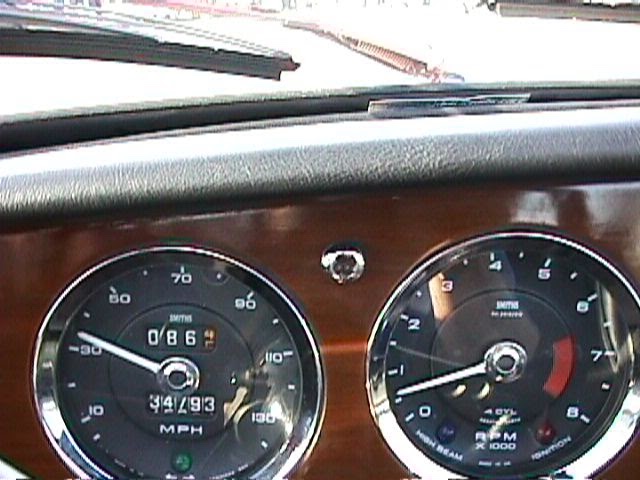 The first time I took a long drive, the rear tail light connection was shorted to the fuel tank due to over-aggressive sanding by Greg and carelessness on my part by not noticing when I connected things up. That and a lack of fuse protection meant the rear wiring harness melted from the trunk up to the dashboard. So I had to repair all those wires. At least the back half of the car still works reliably, which can't be said for the headlights...
Then it was off to the muffler shop to get a new exhaust system. I think it took 3 tries to get it to fit and to sound good. This is the final setup. The only flaw is the tailpipes are a tiny bit too long and too sharp and I have sliced my shins on them several times, especially when slipping behind the car in the garage...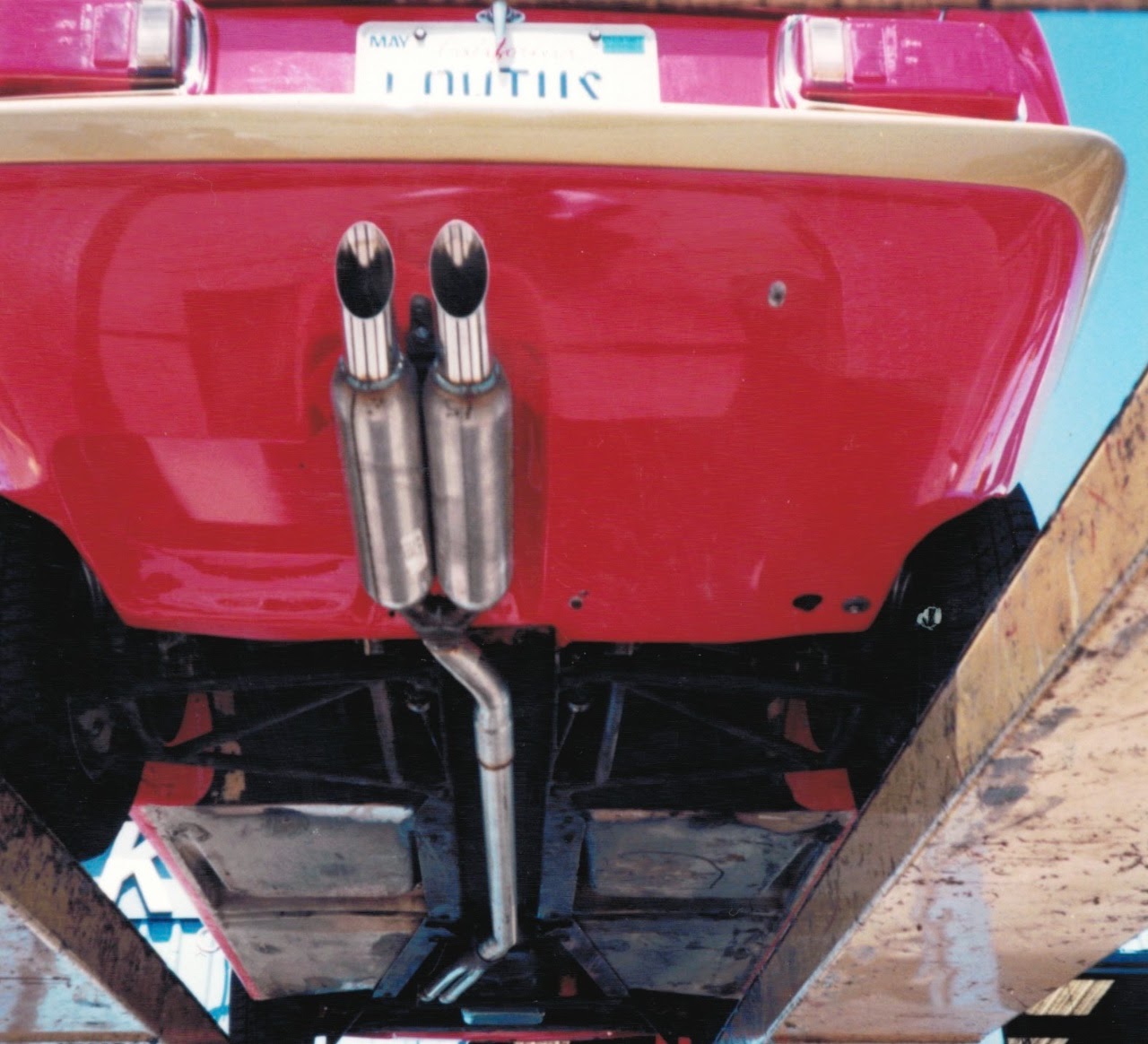 Cooling problems are stereotypical for British cars and deservedly so in the West. It's hot here and we also have long stoplights - the bane of a Lotus. You may have noticed earler that there was an old electric fan in front of the radiator. It was inadequate before the rebuild but worse later. So for a year I did only short runs and then crept home in a panic fearing for my new engine's health. Using all that the Lotus community could offer, I ended up with the following elements of a permanent solution: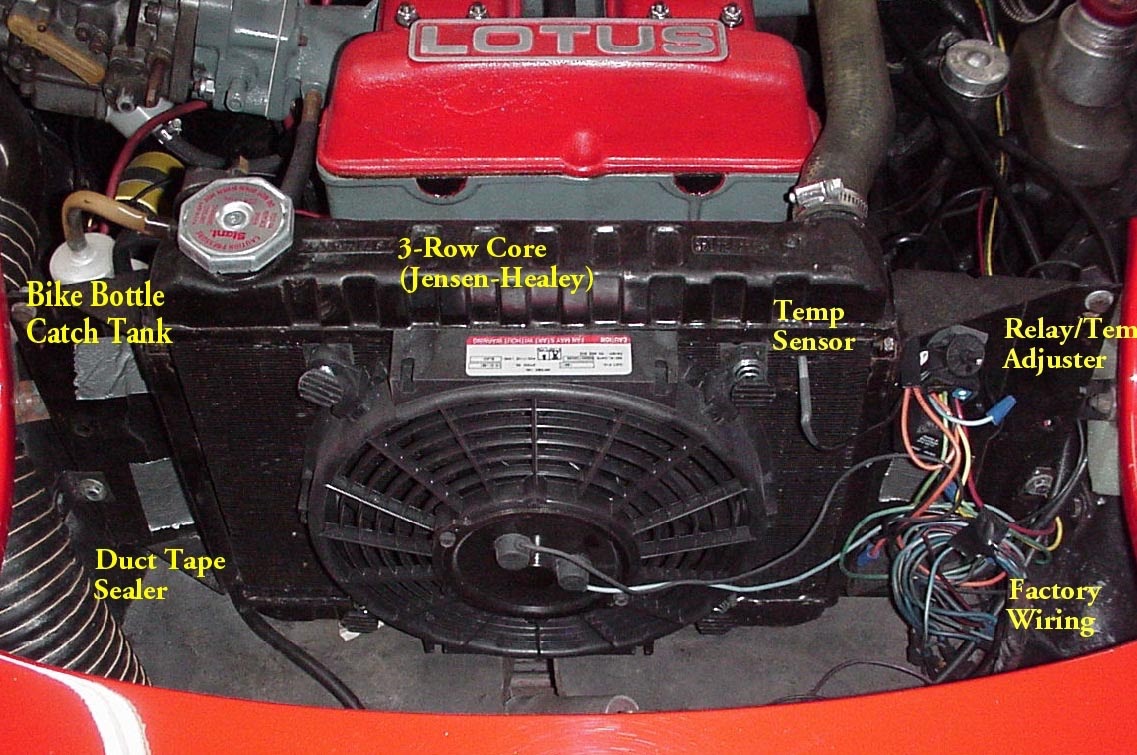 Plus Water Wetter which helps heat transfer to the coolant.
DRIVING THE LOTUS
I think the next few years need to be in another post. I'll leave you with a picture of my fleet: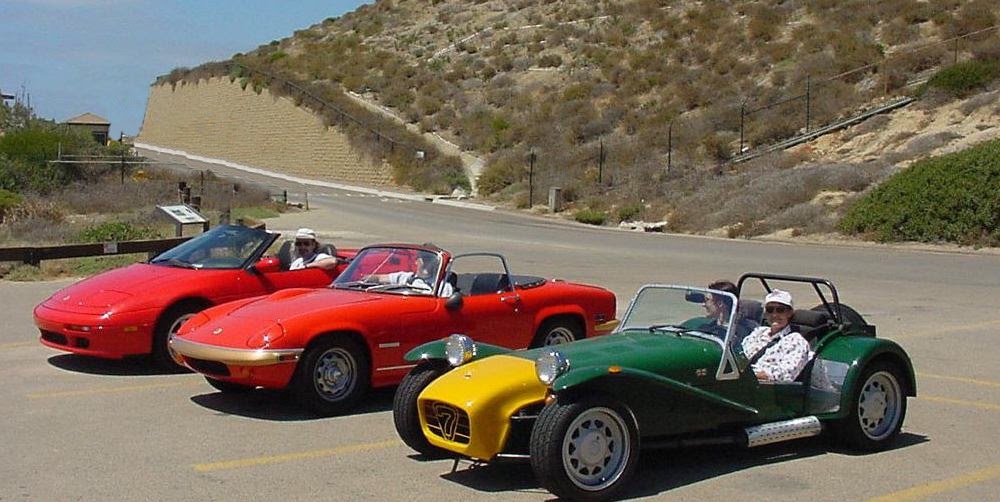 Citromike

First Gear

Posts: 43
Joined: 14 Mar 2017
Location: GMT-8
A W E S O M E !!!!!!
TED
"Driving a Lotus is a triumph of bravery over intelligence." Stirling Moss
"TaylorMadeClassicCars" on WWW and Facebook
tedtaylor

Fourth Gear

Posts: 653
Joined: 09 Dec 2012
Location: South Jersey, USA
An extremely rare sight: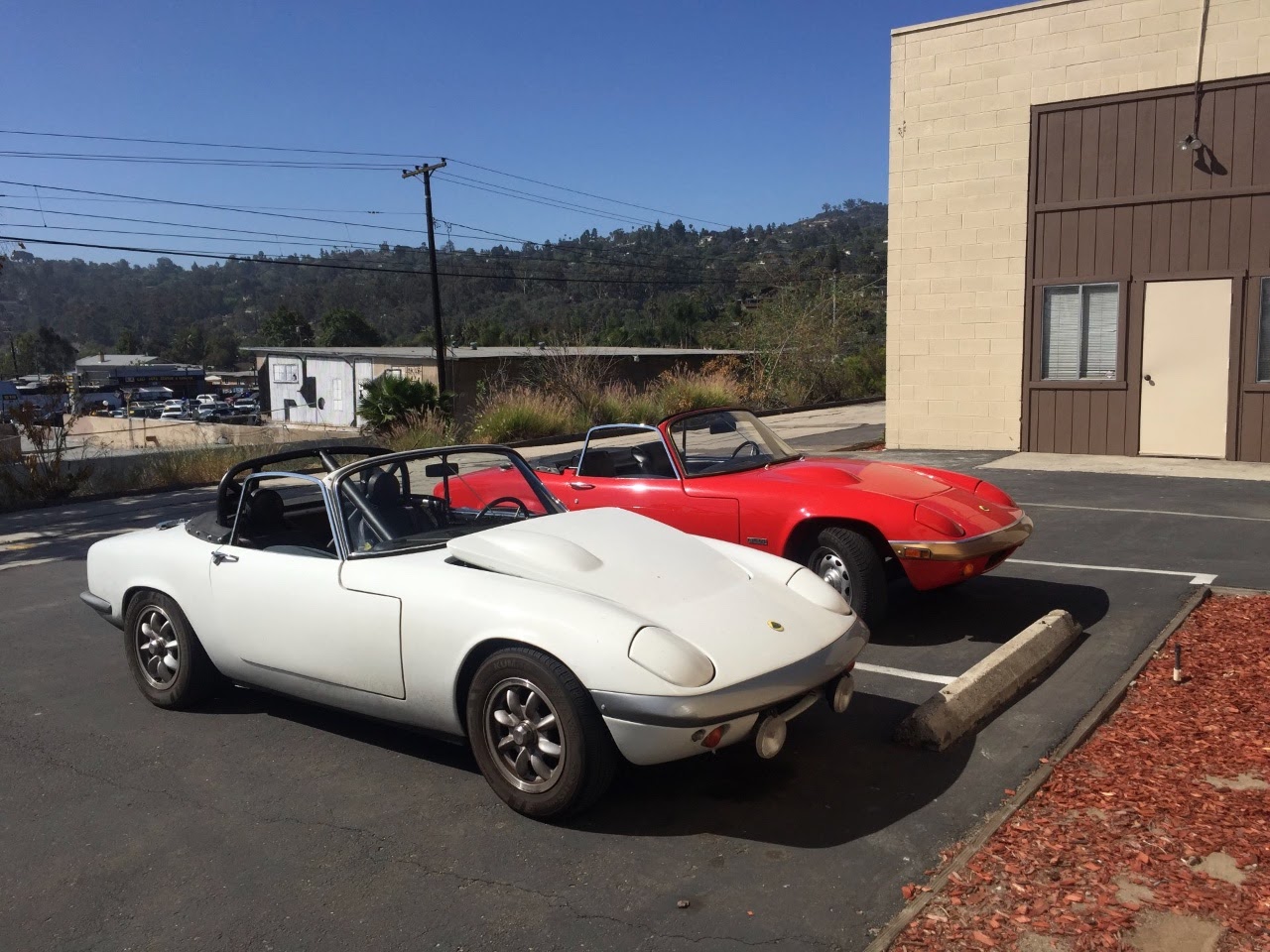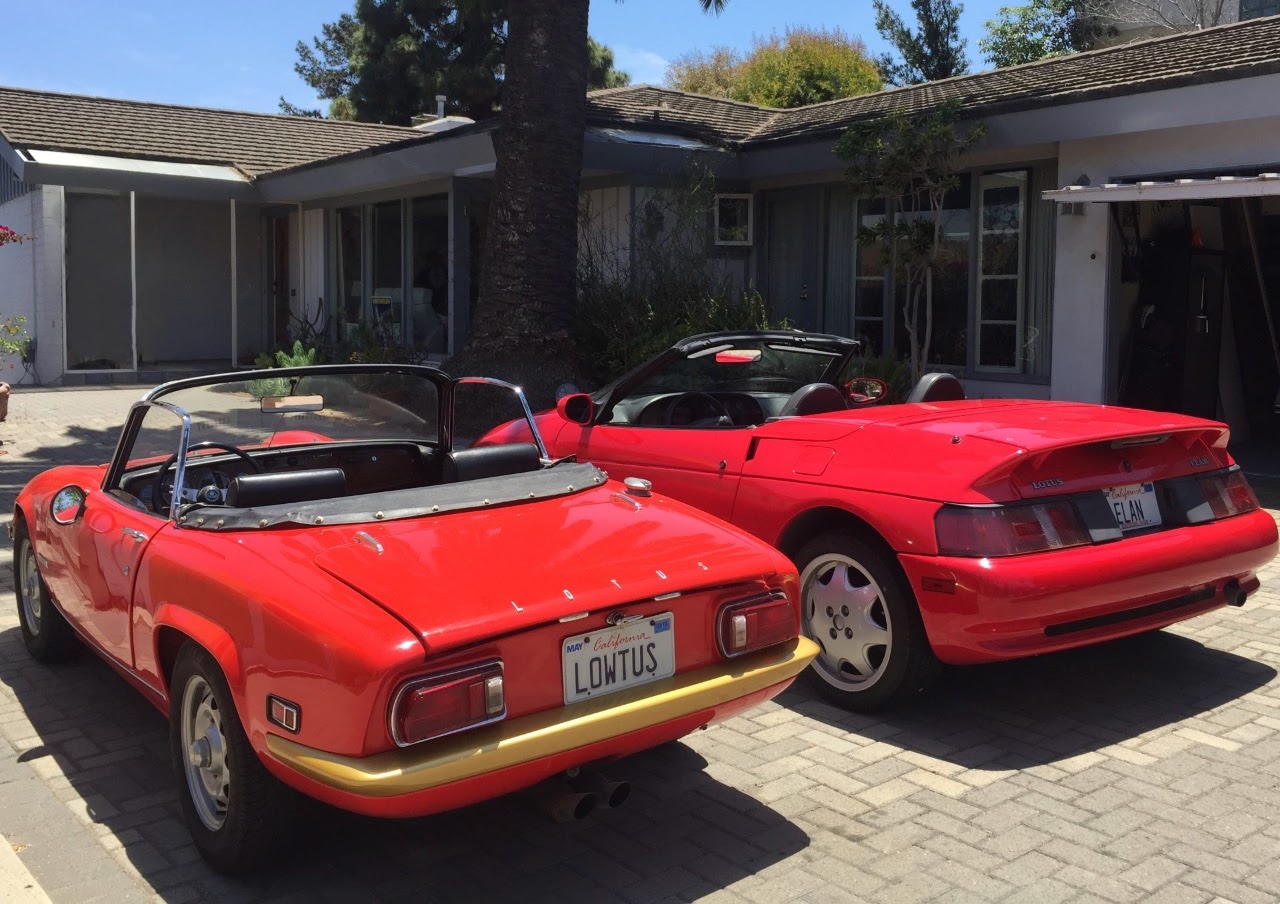 Our cars met at the shop. And there was another Lotus inside, but under a cover, on a lift.
Citromike

First Gear

Posts: 43
Joined: 14 Mar 2017
Location: GMT-8
Total Online:
Users browsing this forum: John Larkin and 12 guests