MOT day today, and the examiner couldn't fail to notice that both front springs were broken - sheared about 4 coils from the bottom in each case. These were Tony Thompson's "comfort" spring/damper unit, fitted about 6 years ago.

Has anyone else had this? I know there were concerns a while back with Spax units failing but as I remember it it was a problem with the damper unit rather than the spring.

Any recommendations for replacements?

Paddy
1963 Elan S1

paddy

Coveted Fifth Gear

Posts: 1191
Joined: 27 Oct 2008
Location: Woking, Surrey
Paddy, I'm in the US so maybe not much Help. I bought Spax at some point during my restoration, then latter springs from Dave Bean only to find after fitting the were too long and car sat too high and could not be adjusted. I ended up cutting the springs to correct length. Then while refitting I found one of the SPAX had failed. Totally frustrated, I ended up going the TT route. And they have been fine with correct height and adjustment.
I guess I'm trying to say, in the long run you may be better going back to TT and getting replacements. In the mean time if anyone in the US needs a NOS adjustable Spax and a set of springs, I have them. I will even throw in the NOS failed unit for free.
James

holywood3645

Coveted Fifth Gear

Posts: 1072
Joined: 07 Oct 2003
Paddy, I'm in the US so maybe not much Help. I bought Spax at some point during my restoration, then latter springs from Dave Bean only to find after fitting the were too long and car sat too high and could not be adjusted. I ended up cutting the springs to correct length. Then while refitting I found one of the SPAX had failed. Totally frustrated, I ended up going the TT route. And they have been fine with correct height and adjustment.
I guess I'm trying to say, in the long run you may be better going back to TT and getting replacements. In the mean time if anyone in the US needs a NOS adjustable Spax and a set of springs, I have them. I will even throw in the NOS failed unit for free.
James

holywood3645

Coveted Fifth Gear

Posts: 1072
Joined: 07 Oct 2003
Apologies for the irrelevance, but topical in this household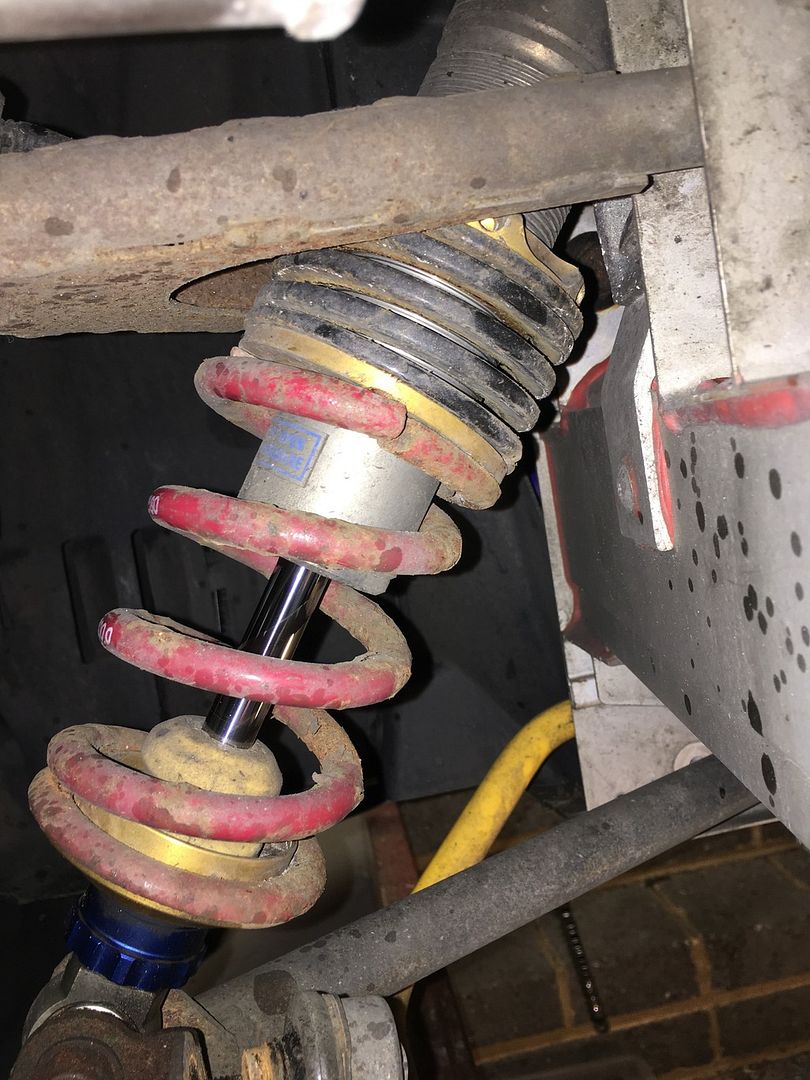 6 year oldl Eibachs on the Exige. Trackday at Goodwood this Saturday. Work to be done!
Graeme
S4 SE
S2 GTS
Peterson JPS Exige

661

Fourth Gear

Posts: 841
Joined: 29 Mar 2012
Location: East Sussex
Now the units are off I see that the spring on one side is broken in 3 separate places, and the other one in 4
TTR tell me that they've changed supplier for the springs since I got them.
Paddy
1963 Elan S1

paddy

Coveted Fifth Gear

Posts: 1191
Joined: 27 Oct 2008
Location: Woking, Surrey
Total Online:
Users browsing this forum: No registered users and 16 guests