I passed through the UK in July & picked up the August issue of Classic & Sportscars. There is an interesting article stating that Clive Smart is hoping to start manufacturing modified elans again.

Here's the article:

Phil Harrison
1972 Elan Sprint 0260K

pharriso

Coveted Fifth Gear

Posts: 3247
Joined: 15 Sep 2010
Location: Long Island NY, USA
This would be definitely worth a look, Clive made two PVT Bentley Racer bodies for me and a friend back in the early 80's and he was so good when I acquired my Alfa 6C in 1984 I got him to do the bodywork and he made a superb job of the car. His workmanship and attention to detail was as good as it gets. At the time he was making the alloy Jaguar bodies for the best C, D and E type retro/clones in between restoring Aston's of all sorts. He would make a super retro of a Shapecraft but even better an IWR Elan Alloy clone.
I haven't seen or spoken to him in over 20 years and I have no commercial or business relationship but cannot speak too highly of the quality of his workmanship. Its very tempting!!
65ginetta

Second Gear

Posts: 88
Joined: 26 Jul 2010
Location: Greenback, Tennessee, USA
This is another pic of the car Clive has produced which looks fantastic.

Also some pics of the replica I am putting together.

.Dave Hughes
Dave Hughes
S2 26R
Elan DHC Sprint
Shapecraft Honda powered S1(in progress)
Turbocharged 26R clone (also in progress)
Evora 400 development car ex Lotus Factory

bigvalvehead

Fourth Gear

Posts: 544
Joined: 11 Sep 2003
Location: Cardiff Wales
Just had to compliment you on your fine work and what is clearly one of the nicest things ever to happen to the Elan... Look forward to seeing this project progress.
Kind regards
Jim Simpson
Italia 2

New-tral
Posts: 1
Joined: 31 Oct 2015
Location: Clinton Washington (State)
I want to build a car with one of these bodies in the worst way. That is a beautiful design. I wonder what the cost is. Has anyone gotten a quote from Clive ?
Glen
05 Elise - Back where I started
65 Elan S2 - 26/4055
72 Europa - 74/2358R
69 Elan S4 - 45/7941
64 Elan S1 - 26/0379
12 Colin 30 - Lotus Racing Kart
07 Exige S - Wicked Road/Track Car
07 Exige S - Fast Road/Track Car
06 Elise - Track pack

Certified Lotus

Coveted Fifth Gear

Posts: 1297
Joined: 04 Aug 2014
Location: Princeton, NJ
Of course, beauty is in the eye of the beholder, but I consider that Chapman got it right first time and the Shapecraft mods totally destroy the classic lines.

IMO.
stevebroad

Fourth Gear

Posts: 931
Joined: 08 Mar 2004
Location: Essex, England
Perhaps somebody could come up with a Lenham type hardtop for the Elan? I used to have one for my MG Midget and it gave the car a nice 'fastback' profile but could be easily removed when I wanted the car as a convertible for the summer..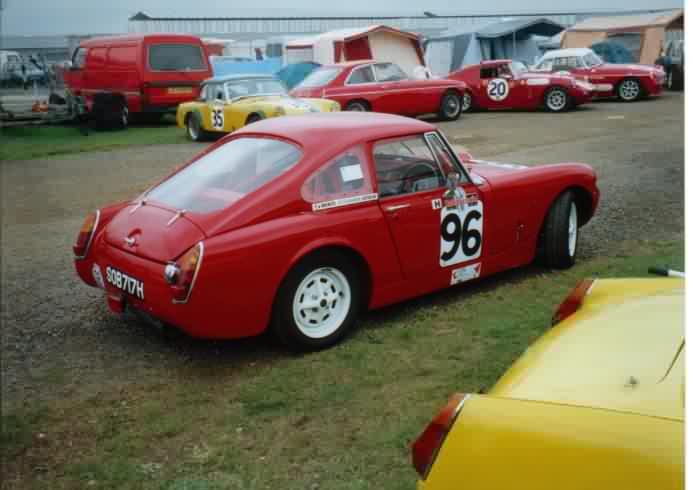 (Not my car but the same idea...)
Carl

pereirac

Coveted Fifth Gear

Posts: 1143
Joined: 01 Oct 2003
Location: Cambridgeshire
And it even manages to make that look worse.

IMO
stevebroad

Fourth Gear

Posts: 931
Joined: 08 Mar 2004
Location: Essex, England
stevebroad wrote:And it even manages to make that look worse.

IMO
Ah... but it's easily reversible ..

pereirac

Coveted Fifth Gear

Posts: 1143
Joined: 01 Oct 2003
Location: Cambridgeshire
Total Online:
Users browsing this forum: No registered users and 11 guests