Looking at a +2 on Sunday.

Looks very tidy in the pictures - but pictures can be very deceiving.

What should I be looking for to determine if it's is a 'buy' or. 'walk away'?
1967 Plus 2 #0168
Johnfm

Third Gear

Posts: 338
Joined: 20 Jan 2013
Location: UK
First of all John, find out when it was painted. If less than a year, then it probably won't be showing any defects yet, but there could be many lurking ready to pop out!

Two main things you need to look for are micro-blisters and gel-coat cracks. Micro blisters are small (2mm or so) pimples in the paint where moisture has somehow got between the paint and fibreglass. The car shouldn't have any, and if there are some on a couple of different panels, then I would suspect that all panels will be similarly affected over time. That will then need a complete strip and re-paint to rectify.

Gel-coat crack are cracks in the paint, which are actually cracks in the top coat of the fibreglass structure. They are usually found around high stress areas (boot hinges, door handles etc.) and areas that have been damaged by accident (stones hitting the nose, opening doors against the body in car parks etc.).

Most cars that have older paintwork will have a few of these, and they are no real problem. If there are just a few and you can live with them then they are a negotiation point. If there are many and you can't live with them then the car will need to be re-painted after repairs are done.

Full re-paint with a few repairs is now around ?8k.

Here's a Plus 2 that I used to own, which looks gorgeous in the photo. It was covered in micro-blisters and gel coat cracks, so you're right, you really can't tell from photos the condition of the paintwork.

Mark

Elanintheforest

Coveted Fifth Gear

Posts: 2953
Joined: 04 Oct 2005
Location: Forest Of Dean, Gloucestershire
Thanks for the advice - after 140 views and no responses I thought I might struggle to get an answer!

Now I know what to look for and possible costs that I am up against at least.
1967 Plus 2 #0168
Johnfm

Third Gear

Posts: 338
Joined: 20 Jan 2013
Location: UK
Mark covers it really - with micro blisters probably need a complete respray, with gelcoat cracks it depend son how many and how big. A few other potential paint issues include
Dull & faded - can often be polished out, but depends on the thickness of the paint. Red is worst colour for fading. Same for light scratches in the paint, especially likely if a previous owner has used car washes or been over-enthusiastic with the chamois.
Sink marks - where solvents are gradually released from the paint, and the top layer 'sinks' to show the repairs underneath. These can take over 6 months to show after a respray. Slight sink marks may be polished out, but probably will need filling and repainting
If repainted, what paint was used - cellulose paint can be spot repaired, and blended in to the original (useful with a small sink mark or run). More recent 2 pack paint is a lot harder, and will require at least the entire panel to be repainted. Check for subtly differing colours along the car - signs that panels have been repainted or spot repairs done
As Mark said - if it looks good enough for you, then any blemishes are negotiating points. Otherwise could be expensive (from ?1k for a quick 'blow over' to ten times that for a quality respray), or if you have the time, space and equipment, then respraying a car is around ?200 paint and thinners. Sandpaper costs depend on the amount or work required, from a light preparation (couple of hours) to a complete rub back to gel-coat (months of hard work, been there, done that
)
Peter

PeterK

Third Gear

Posts: 319
Joined: 03 Jul 2012
Location: Fleet, north Hampshire, UK
This is the car.
Deal done.
Collect on Sunday.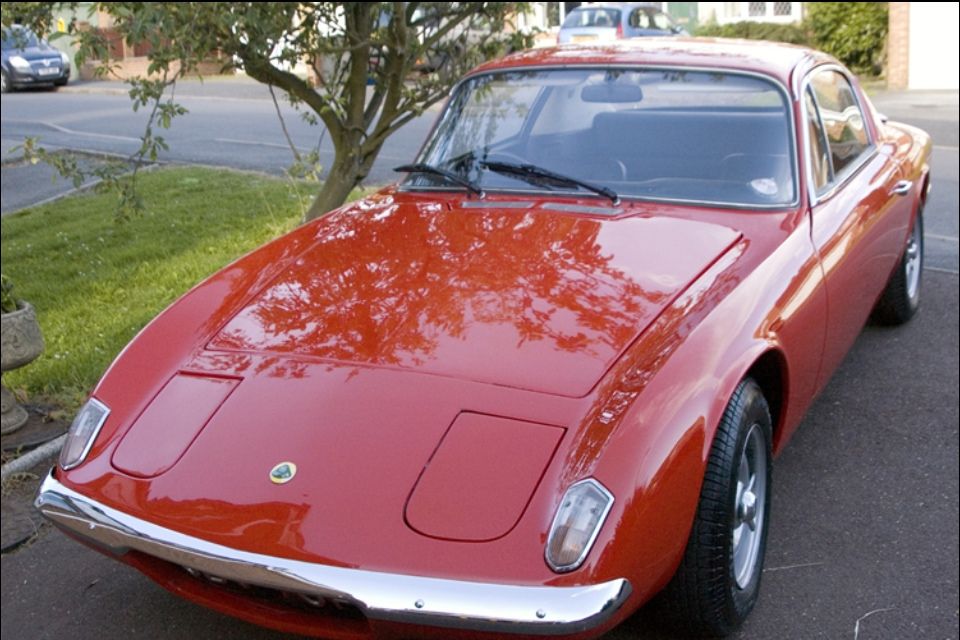 1967 Plus 2 #0168
Johnfm

Third Gear

Posts: 338
Joined: 20 Jan 2013
Location: UK
Congratulations John. Looks very nice! I'm sure you are beaming as brightly as that paint!
Stu
1969 Plus 2 Federal LHD

stugilmour

Coveted Fifth Gear

Posts: 1839
Joined: 03 Sep 2007
Location: Calgary Alberta Canada
Car now collected.

A couple of 'star cracks' - but no pimpling.

Needs a bit of tlc, but a decent car for the money.

Now need to:

Check if water temp gauge is accurate - cant really run at 120 without boiling over into the overflow?
Replace dynamo with alternator
Put in electronic ignition
Change coil, dizzy cap and plug wires
Change 7ES spark plugs for 6ES
Hi torque starter
Halogen bulbs
Solid drive shafts
New Bushes all round
Tune webers.
1967 Plus 2 #0168
Johnfm

Third Gear

Posts: 338
Joined: 20 Jan 2013
Location: UK
Total Online:
Users browsing this forum: No registered users and 5 guests