Spotted this on a custom car in Hall 7 at the NEC Classic over the weekend. It was called the orgasmatron or something
Kindest regards

Alan Thomas

Spyder fan

Coveted Fifth Gear

Posts: 2541
Joined: 11 Jun 2009
Location: Kent country & Sussex seaside UK
Yeuuk.
Bill Williams

36/6725 S3 Coupe OGU108E Yellow over Black.
billwill

Coveted Fifth Gear

Posts: 4721
Joined: 19 Apr 2008
Location: London UK
Ewwwww, Matron!

What you do see when you don't have a gun, eh?

Tim

trw99

Coveted Fifth Gear

Posts: 2830
Joined: 31 Dec 2003
Location: Essex/Herts border, UK
Its a better use than sitting on my computer desk
dont close your eyes --you will miss the crash

twincamman

Coveted Fifth Gear

Posts: 2953
Joined: 02 Oct 2003
Location: Niagara falls [slowly I turned]
I saw the orgasmatron (or whatever it's called) and although it's obviously an aquired taste the quality of workmanship was outstanding, especially the interior: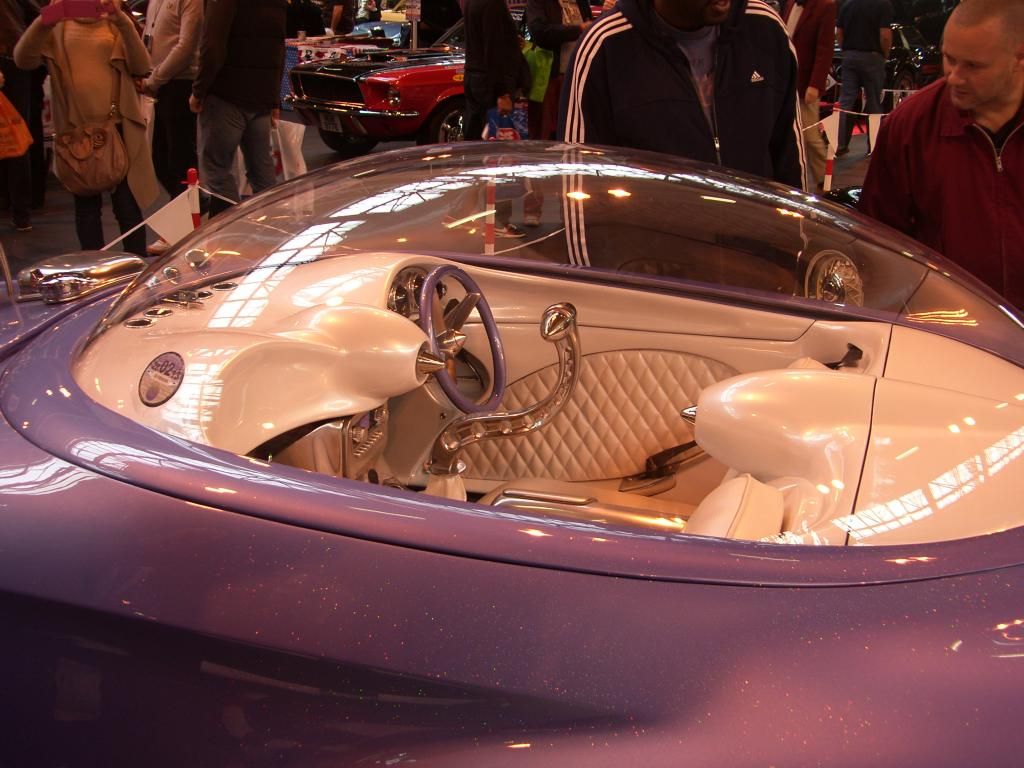 The owner/creator claimed to have made the whole thing himself which I think is quite impressive (even though the front is very ugly)...

sparkey

Second Gear

Posts: 68
Joined: 07 Jan 2006
Location: High Peak
I spoke to the builder; briefly. This thing was located in the hall reserved for "sad acts". Which was appropriate.
elansprint71

Coveted Fifth Gear

Posts: 4092
Joined: 16 Sep 2003
Location: Cheshire, UK.
I bet if you asked the builder who his influences for the car were.........if he didn't mention Big Daddy Roth and George Barris
just to name a couple, I would be surprised. Growing up in SoCal during the sixties these types of cars were seen at car shows as the norm.
I guess that is why I like sport cars and not customs. It wasn't unusual for quarter milers to have the small tank in front of the radiator on extended frame arms with............you got it........a spinner cap.
Looks like a Hot Rod show to me.
Like Shelby......I call em' sport cars.........he knew more about them.............I'll follow his lead.
http://www.mooneyesusa.com/shop/index.php?cPath=188_128
http://www.mrgasser.com/beatnikbandit.htm
Mike
"Be Polite, Be Professional, But have a plan to kill everyone you meet"
General "Mad Dog" James Mattis United States Marines
cal44

Fourth Gear

Posts: 693
Joined: 28 Nov 2010
Total Online:
Users browsing this forum: No registered users and 6 guests