Looking for some ideas about a good looking air cleaner/s for Webers. Hope this is not toooo offensive but the the K&N housings look cheap and the chrome is so so at best.

Any direction would be helpful. The car currently has the stock housing with tube to AC filter housing on the nose of the "Plus 2".

Any artsy fartsy CNC machine worked aluminum housings? Websites? Something?



Mike
"Be Polite, Be Professional, But have a plan to kill everyone you meet"
General "Mad Dog" James Mattis United States Marines
cal44

Fourth Gear

Posts: 693
Joined: 28 Nov 2010
ahh, leave the stock air box and cover in place along with the air trunk tube and get one of Ray's K & N filter replacements or just go shoping in the K&N filter book.
K&N Air Filter fits onto air trunking
High-performance air filter for your Lotus Cortina (Elan, Plus 2, TwinCam Europa too). Filter element clamps onto air intake hose. Element measures 9" long, tapered diameter 6" at base, 5" at end
Ref. RE0810 - $59.00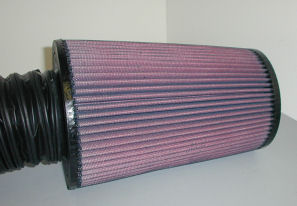 http://rdent.com/
r.d. enterprises, ltd.
290 Raub Road, Quakertown, PA 18951 USA
Phone 215-538-9323 Fax 215-538-0158
[email protected]
Request Quote

garyeanderson

Coveted Fifth Gear

Posts: 3128
Joined: 12 Sep 2003
Location: Massachusetts, U.S.A.
Hi Mike, I have done just what Gary suggested. I made a cradle that held the filter up and attached where the air tube connected to the filter. For the first time I was caught in the rain and noticed the filter got a little damp. i will be extending the cradle higher up out of the road rain and will open up more air flow to the rad. I believe the increased air flow. with Ray's filter, allows the engine to breath better and is a benefit over the original setup.
Cliveyboy has one he offers. Mine is crude but similar.
Sarto
lotus elan 1966 S3 FHC
36/5785
LHD

mac5777

Fourth Gear

Posts: 574
Joined: 05 Jul 2004
Location: Northern California
That, sirs, is a fine idea. I will fashion a platform to bolt in the nose area.

Reading on the rain issue I can build a half round deflector that will attach to the platform.

It won't be the last time you hear from me.

Thanks again,
Mike
"Be Polite, Be Professional, But have a plan to kill everyone you meet"
General "Mad Dog" James Mattis United States Marines
cal44

Fourth Gear

Posts: 693
Joined: 28 Nov 2010
Mike, take a picture of your new "rain shield". I thought of one but its above my garage pay grade. Make it simple and market it. There are a lot of us using the K&N filters. The wet weather was the only draw back.

Sarto
lotus elan 1966 S3 FHC
36/5785
LHD

mac5777

Fourth Gear

Posts: 574
Joined: 05 Jul 2004
Location: Northern California
Total Online:
Users browsing this forum: No registered users and 4 guests