Hello again.

I appreciate that this might have been slogged to death....but I am so frustrated.

so! tacho..not working, fuel gauge not working, temp gauge slowly creeps into the red (can stay there for ages)but not actually overheating.
I have earthed everything twice over!
I have fitted a new temp sendor.

any suggestions would be appreciated.

thank you
Mjnboys

First Gear

Posts: 22
Joined: 02 Oct 2013
Location: warwick
A bad earth or connection could provide an answer to all the issues, but if you've been there & done that, then next ....
What age Plus 2, do you have an electrical test meter (and know how to use it
) and a wiring diagram ?
1 - If it has a battery condition indicator, is it showing around 12 volts with the ignition turned on ?
2 - If your car has the low level fuel warning light, then in the boot, what voltage riches the fuel tank sensor on the Black/Brown wire (should be 12V when disconnected). If you briefly earth it out, does the low fuel warning lamp come on ?
3 - What voltage riches the fuel tank sensor on the Green/Black wire and what voltage riches the engine temp sensor on the Green/Blue wire. They should both be somewhere around 10V when disconnected, but not the full 12V. What happens to the gauges when the sensors are disconnected, and if you temporarily / briefly earth then out, do the gauges' needles start to move ?
If battery condition gauge is not registering, or if you don't have one and when you earth out the Black/Brown fuel low level warning wire nothing happens, then check the fuses first. If OK, then you need to follow the volts from the fuse box - unfortunately there are many connector / splitting points, so just be logical.
If 1 & 2 are OK, but when you earth out the fuel and temp sensor wires nothing happens, then I would suspect the voltage stabiliser. First check that all wires, including the earth wire, are properly attached.
Will need more clues before guessing next steps
Peter

PeterK

Third Gear

Posts: 319
Joined: 03 Jul 2012
Location: Fleet, north Hampshire, UK
You may have a faulty voltage regulator.
Details of Smiths Instruents here:
lotus-electrical-f38/smiths-instruments-documentation-from-the-horses-mouth-t29442.html#p195342
more info here:
https://www.holden.co.uk/cataloguePDFs/cat10/Gauges.pdf
Basic wiring diagram of instruments in classic cars.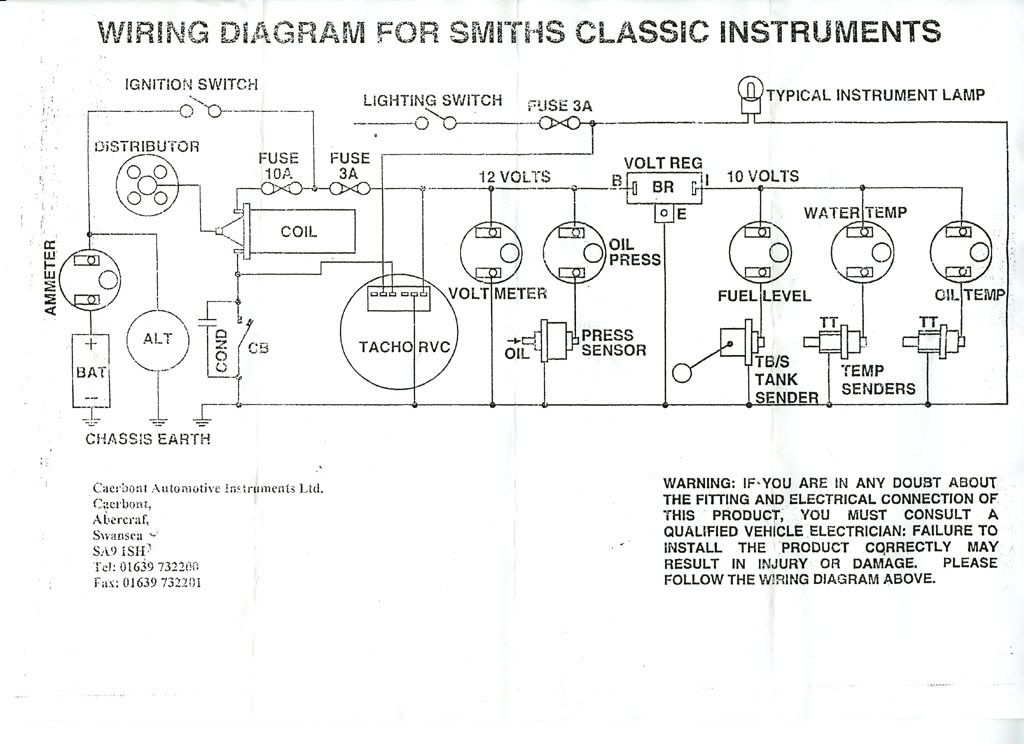 Last edited by billwill on Thu Feb 04, 2016 6:12 pm, edited 1 time in total.
Bill Williams

36/6725 S3 Coupe OGU108E Yellow over Black.
billwill

Coveted Fifth Gear

Posts: 4721
Joined: 19 Apr 2008
Location: London UK
billwill wrote:You may have a faulty voltage regulator.



My +2 did some thing very similar some years ago and it turned out to be the voltage stabilizer on the back of the clock. With mine i found my Temp and fuel level read too high (but they did still work though)
Looks like this
My advice would be to check the voltage at the clocks with the engine off then again when running (it should stay the same and not increase as mine did) i then fitted a Solid state voltage stabilizer which fixed the problem.
Chris

Grizzly

Coveted Fifth Gear

Posts: 1964
Joined: 13 Jun 2010
Location: Cheshire/UK
Certainly sounds like the voltage stabiliser. Get yourself a solid state one off eBay and you'll find your instruments read far better.
1970 Elan +2
Factory Federal RHD
B42 Midnight Blue
(Esprit S4)
AdrianSi

Second Gear

Posts: 69
Joined: 20 Nov 2015
Location: UK
You can't check the old type voltage stabalizers with a DIGITAL multimeter. because they are vibrating 'relays' which change the on/off ratio to achieve an AVERAGE 10 volt output.

You can check the new solid state type.
Bill Williams

36/6725 S3 Coupe OGU108E Yellow over Black.
billwill

Coveted Fifth Gear

Posts: 4721
Joined: 19 Apr 2008
Location: London UK
Fantastic advise, this is going to my job this weekend. I will let you know how I get on....

Thanks to everyone for your help and advice.

Dave
Mjnboys

First Gear

Posts: 22
Joined: 02 Oct 2013
Location: warwick
Total Online:
Users browsing this forum: No registered users and 10 guests