Hi Folks
I am going to paint the red bit of my car this winter- wasn't going to but need something to do!
How do you adjust the bonnet to fit correctly? - The bonnet rubs on the scuttle - see picture.#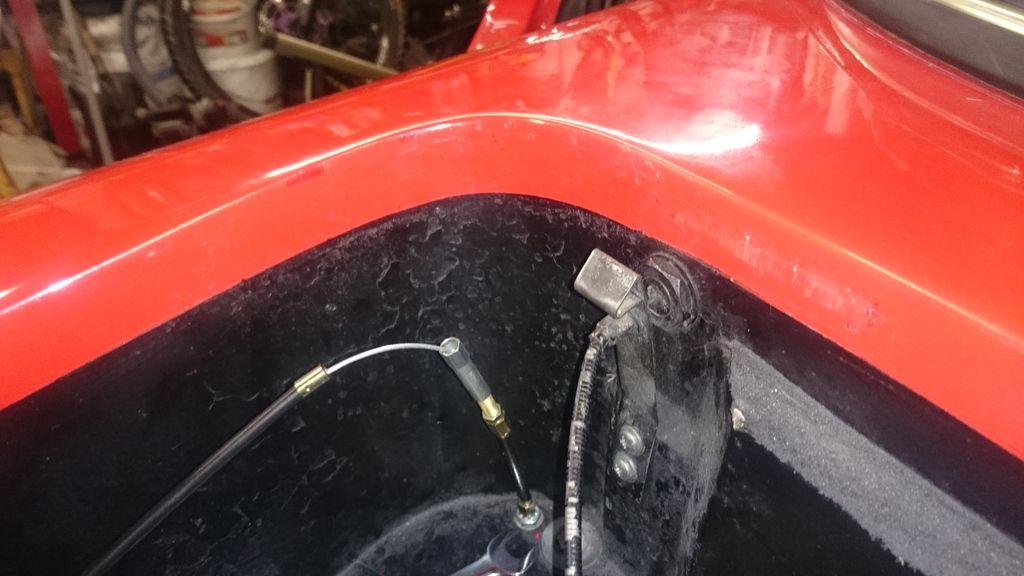 Can you adjust the screws on the skids to move the bonnet down the aperture? Or is maybe the hold down spring in the wrong place pushing the bonnet towards the scuttle?
Any wisdom from people who have solved this problem in the past would be greatly appreciated.
Cheers
George
Type28

Second Gear

Posts: 128
Joined: 26 Dec 2013
Location: Uk- Edinburgh
No way should the bonnet ( hood) be rubbing on the scuttle!

I wonder if the bonnet clips are so far forward they are going in front of the metal clips on the bonnet & pushing it rearwards?
Phil Harrison
1972 Elan Sprint 0260K

pharriso

Coveted Fifth Gear

Posts: 2806
Joined: 15 Sep 2010
Location: Long Island NY, USA
Does it rub both sides simultaneously - i.e. gap it too tight - or does it just get pushed to a side or an other when closing from the side? if the proper spring is on (attached to the steering tube on my car, it is relatively strong) and the bonnet skids smoothly on its nylon screws at the front, it should follow the front tracks when closing and get centered this way. That said, I prefer to get the bonnet near closing position, pull the handle with one hand while I push at the middle and lock by releasing the handle, so that there is no wide slapping motion when I close it.
S4SE 36/8198

nmauduit

Coveted Fifth Gear

Posts: 1491
Joined: 02 Sep 2013
Location: France
hi george
when I first got my s4 I spent quite a while getting the bonnet fit right I eventually found that one of the nylon adjusting screws was bending when the bonnet was closed - also that their mounting/support was bending under load...... replaced all of the screws, reinforced the mounting and problem solved.
however, it did take a lot of fiddling + trial and error + spring retaining clip adjustment etc...
fred
'Never give up!....unless it's hopeless.....'

1970 S4 dhc big valve
1973 Ginetta G15
1967 Ginetta G4 [sadly now sold]
1959 lotus elite type 14
Elanconvert

Third Gear

Posts: 429
Joined: 26 Jul 2013
Location: Sunny Devon, United Kingdom
Thanks for your thoughts- looks like a bit of fiddling prior to paint.
The nylon screws are a bit squint so will start with a new set of them
Cheers
George
Type28

Second Gear

Posts: 128
Joined: 26 Dec 2013
Location: Uk- Edinburgh
Total Online:
Users browsing this forum: No registered users and 11 guests